THE QUALITY OF OUR YARNS AND FIBERS
Yarn Production and applied quatity control processes:
Our Flat yarns (FDY) are manufactured in different deniers and filaments according to customers needs using the newest technology of production techniques. We use Uster, Uster Tenso Rapid and various other testing equipments in quality control processes for our yarns. Also, 100% knitting and dyeing tests are applied and the yarns are guaranteed for different end-use dyeing applications.
Out Textured yarns (DTY) are being produced at On-Line Quality Control System equipped state-of-the-art machines and the quality control tests are done at modern quality control laboratories.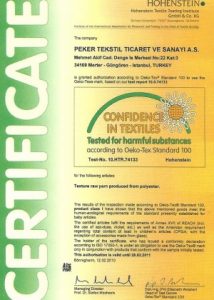 Also all of our DTY bobbins are exposed to 100% knitting and dyeing tests and their end-use applications are guaranteed for dyeing. All of our bobbins are examined visually before packaging and shipping.
Also, our ring spun and open-end spun yarns of various counts are all tested in high technology laboratories using Uster, Uster Tenso Rapid and different other testing equipment.
Our Polyester staple fibers (PSF) are produced on the most advanced production lines and continuously tested to match the highest quality. The elongation and tenacity of our fibers are tested using INSTRON equipments. Our fiber tests ensure the quality for desired fiber specifications.